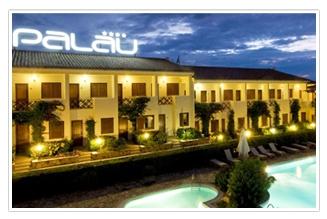 Elegant and welcoming 4-star establishment, the Palau Hotel is called this way because of the seaside resort, that has the same name and overlooks the splendid archipelago of Maddalena, the Corsica and a part of Costa Smeralda.

The hotel, characterized by comfortable and relaxing ambiences, is provided with: garden, restaurant room, bar, TV room, private parking and two swimming pools (one for children and another for adults) situated in the centre of the hotel.

Apart from this equipments, the hotel guarantees several activities like: tennis, wind-serf, sailing, horse riding, school, underwater excursions and a water motorbike, that consents to see the splendid sea beds of the archipelago and coast.
"La Sciumara" beach with umbrellas and beach beds is NOT for free.

The refreshment is one of the best aspects of the hotel, that serves a particularly accurate cooking, delicious menu, exalting Mediterranean tastes and those typical of the Sardinia.

The bar of the hotel, elegant and refined, is the ideal place to spend pleasant moments sipping good cocktail and drink.

For those, who have to organise working meetings, congresses or other meetings, is available a congress centre, equipped with optimal systems, that can receive up to about 250 people.